Your bunny deserves the best rabbit food. With so many options available, how do you know what to feed rabbits? There's rabbit pellets, rabbit hay, organic rabbit food, grain free rabbit food and more.
We discuss the different types of rabbit food so you can make an informed choice when selecting the best rabbit food for your bunny.
What Can Bunnies Eat?
Rabbit Hay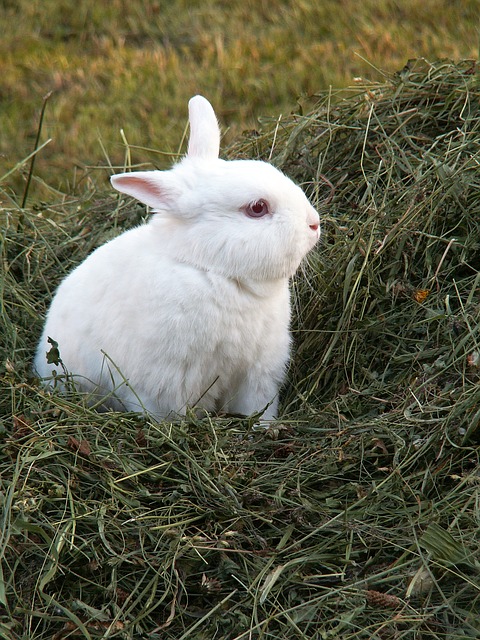 Hay should be the main component of your rabbits diet. Eating hay is good for your rabbits teeth and their digestive health. You can vary the type of hay fed to your rabbit depending on the season and availability.
Timothy Grass or Timothy Hay is the most popular choice for your bunny. There's also orchard hay, meadow hay, botanical hay and oat hay. All of these types of hay are suitable for an adult rabbit. Some pre-packaged hay also comes in a blend of the different types of hay.
Alfalfa Hay is a high protein, high sugar rabbit food. This is best fed to young rabbits still in their growth stage. Once your rabbit reaches maturity, it should not be fed alfalfa hay as its primary food source. A rabbit is considered mature after 1 year of age.
Alfalfa hay contains far more calories and protein than is needed by the average adult domestic rabbit. You can start to introduce timothy hay or other types of grass and hay from 7 months old.
Rabbit Pellets
Choosing rabbit pellets can be a confusing task. There are many options of rabbit pellets with different levels of nutrition. Prices also vary considerably between the basic pellets and more nutritional pellets.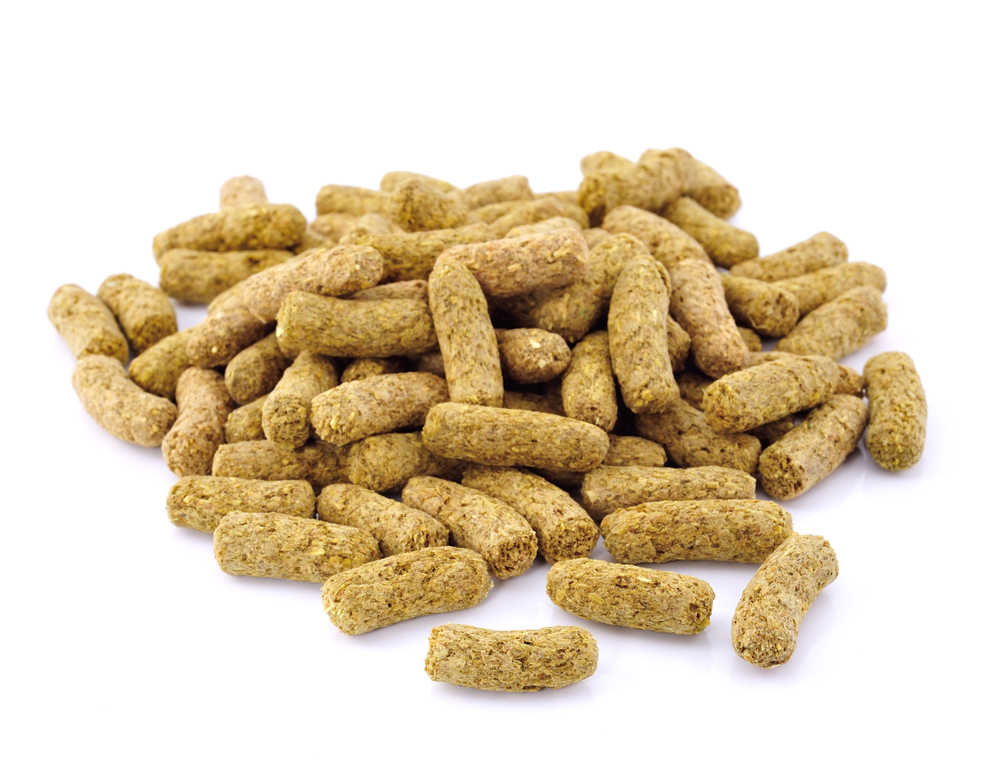 Rabbit pellets can either be made completely from Timothy Hay (the best choice) or a varieties of grains, seeds, fruits and vegetables made into a pellet form. Premium and Ultra-Premium mixed rabbit pellets also contain added vitamins and minerals and timothy hay.
Look for a rabbit pellet that has a minimum of 18% fiber. Grass naturally contains between 20% and 25% fiber. The higher fiber pellet you choose the better it will be for your bunnies digestive system.
We also suggest looking for a rabbit pellet that is 100% premium hay. Whilst this will be more expensive than other pellets, some pellets have additives and fillers that offer no nutritional value to your bunny.
There are also pellets that contain dried fruits and vegetables. Some fruits and vegetables have a high sugar content, even when dried, and should be fed to your rabbit as a treat only.
Keep reading below, where we recommend the best rabbit pellets for maximum nutrition for your bunny.
Fresh Vegetables
Fresh vegetables should be incorporated into your rabbits diet on a daily basis. But, not all vegetables are beneficial for a rabbit. If introducing a new vegetable to your rabbit, give him or her a small taste of the vegetable and see how your rabbit reacts. Look for bloating or any change in their bowel habits, these could be adverse reactions to new foods.
The best veggies for rabbits are celery, mint, parsley, basil, dandelion leaves, coriander (cilantro), bok choy and romaine lettuce.
Click here to read our detailed post on the best veggies for rabbits, including vegetables that you should not feed your bunny.
Rabbit Treats
Fresh fruit is the best treat you can give your rabbit. Fruit is a treat as it is high in sugar. Your rabbit can enjoy (sparingly) strawberries, apples with seeds removed, bananas without the peel, raspberries and pineapple.
What Do Baby Bunnies Eat?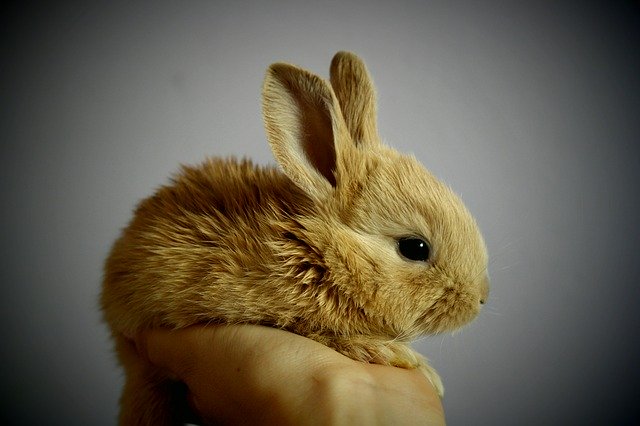 Newborn rabbits should be fed mothers milk only for the first 3 weeks of life.
After 3 weeks you can try nibbles of alfalfa and quality hay pellets, but do not allow unlimited access to these. It is important infant bunnies remain on mothers milk as their primary food source.
If your baby bunny has managed well during the 3rd to 4th week nibbling on alfalfa and pellets, you can introduce more alfalfa and pellets in addition to mothers milk.
Baby rabbits can be weaned from mothers milk at around 7 weeks of age. At this time they should be given unlimited hay and pellets.
Vegetables can be introduced into your rabbits diet from 12 weeks of age in small quantities. Introduce one vegetable at a time and check for how your bunny tolerates the veggies.
From 7 months of age, young bunnies can be transitioned to timothy hay or other types of hay, by gradually decreasing the amount of alfalfa being fed and introducing the other types of hay.
Best Rabbit Food – Our Top Recommendations
Rabbit Pellets – Exotic Nutrition Timothy Hay Pellets
These pellets are 100% Timothy Hay. The analysis stacks up to a 7% crude protien, 2% crude fat and maximum 35% crude fiber. This is the best of the best timothy hay rabbit food in pellet form.
[azonpress template="box" asin="B06XY9NHQG"]
Best Hay for Rabbits
When choosing hay for rabbits, there's the 1st cutting, 2nd cutting or 3rd cutting.
The first cutting has lots of seed heads. It's high in fiber, low in protein and low in fat. If your bunny needs to lose a little weight the first cutting is a good choice due to its low protein and low fat content. First cuttings are also good for dental issues.
[azonpress template="box" asin="B00WEJA7TY"]
The second cutting is usually considered the best balance of hay. It contains seed heads, stems and leaves. The fiber, fat and protein content are all within standard ranges. This is a good choice for adult rabbits.
[azonpress template="box" asin="B00ID70IEU"]
The third cutting has a lower fiber content and is higher in fat and protein. If your bunny needs to gain weight, the third cutting a good choice. The hay is also softer in the third cutting, so it is often used for older rabbits or fussy eaters who don't eat alot.
[azonpress template="box" asin="B016ZL6AO2″]
Best Baby Bunny Food – Sherwood Pet Health Baby Rabbit Food
Some rabbit pellets contain fillers such as corn, soy and wheat. The Sherwood Pet Health Baby Rabbit Food has none of these.
Here's the ingredient list: Alfalfa hay, whole oil seed blend (flax included)*, whole millet*, Monodicalcium phosphate, salt, choline chloride, Essential amino acids, Chelated minerals, B-vitamins, cobalt carbonate.
The Sherwood Pet Health baby rabbit food is suitable for baby bunnies up to 12 weeks of age.
[azonpress template="box" asin="B00L5KROKI"]
Organic Rabbit Food – Oxbow Organic Rabbit Food
It has a long list of ingredients (see below), but this organic rabbit food by Oxbow is more cost effective than the 100% Timothy Hay Pellets above, whilst still providing a good level of nutrition for your bunny. It has a minimum 12% crude protein, 23% crude fiber, 2.5% crude fat.
[azonpress template="box" asin="B073Y3999N"]
Ingredients: Organic Grass Hay, Organic Canola Meal, Organic Wheat Straw, Organic Barley, Organic Sunflower Meal, Organic Flaxseed, Sodium Bentonite, Yeast Culture (dehydrated), Calcium Carbonate, Salt, L-Ascorbyl-2-Monophosphate (Vitamin C), Organic Chicory Root, Organic Dandelion Leaf, Organic Ground Rosemary, Hydrolyzed Yeast, Organic Blueberry, Organic Cranberry, Choline Chloride, Vitamin E Supplement, Zinc Sulfate, Organic Yucca Schidigera Extract, Zinc Proteinate, Niacin, Copper Sulfate, d-Calcium Pantothenate, Vitamin A Supplement, Manganous Oxide, Biotin, Riboflavin Supplement, Copper Proteinate, Magnesium Sulfate, Thiamine Mononitrate, Sodium Selenite, Manganese Proteinate, Pyridoxine Hydrochloride, Folic Acid, Cobalt Carbonate, Vitamin D3 Supplement, Vitamin B12 Supplement, Calcium Iodate
Best Treats for Rabbits
[azonpress template="box" asin="B07L93Q8SV,B07D1SK71B,B07RKMYHY2,B07Y1DKPH9″]