Bunnies love hopping, running, and digging, and they need exercise to stay healthy. It's also great for them to enjoy a bit of sunlight and the fresh air outside. Their typical habitat is outdoors, so the best way to mimic this is to create ample open space for them using an outdoor rabbit run.
In this guide, we will explore outdoor rabbit runs and choose the best rabbit run for the type of pet rabbit you own and the space you have available. We'll also give you some outdoor rabbit run ideas if you want to do it yourself.
The Quick List: Here are our recommendations for the best rabbit runs for outdoors
Rabbit Hutch vs. Outdoor Rabbit Run
Outdoor Rabbit Runs are simply enclosures for your bunny to hop and get their daily exercise. It's different from rabbit hutches, which provide a space for them to sleep and eat. You may also see rabbit runs referred to as rabbit tractors.
The hutch is the homey, comfortable, living space while the run is the gym and exercise area. Rabbits need both to live a happy, healthy, and comfortable life as your pet.
Sometimes, a rabbit's hutch and run are combined. Whether you choose to have a combined hutch and run or separate enclosures for your bunny is entirely up to you.
Things to Consider When Buying an Outdoor Rabbit Run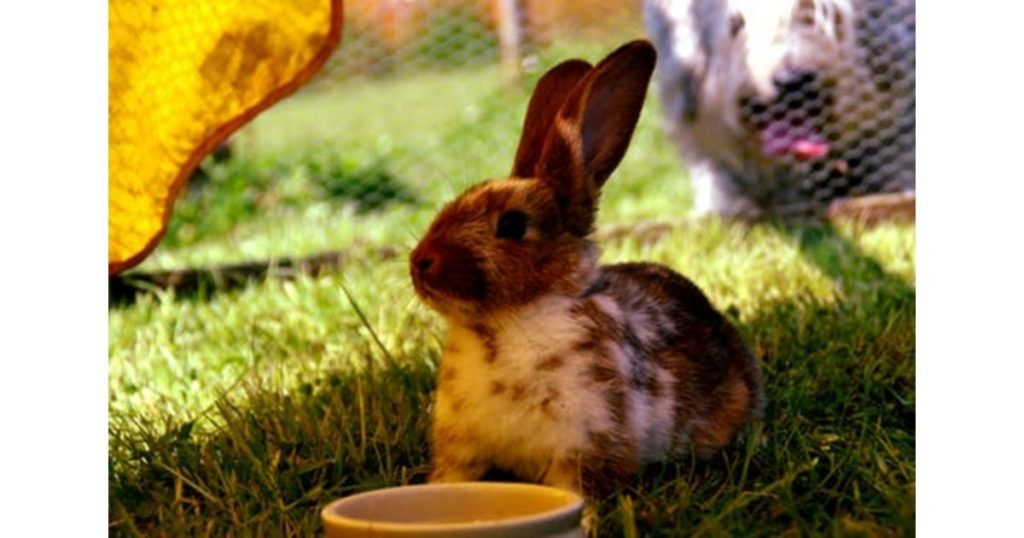 Size
This refers to both the size of your rabbit and the size of your run. Naturally, a flemish giant will need much more room than baby rabbits, so consider not only how large your rabbit is now but how big they will grow in the future when they reach full size.
Predators
Some rabbit runs are crafted from vermin and predator-proof wire. Others have more significant gaps in their wire. If you are prone to snakes or other predators in your environment, consider what size wire will be best to keep your bunny safe. There are multiple options on this list with both larger and smaller wires.
There are outdoor runs available without a roof. If you buy one without a roof, you should ensure no flying predators, like hawks, eagles, or owls, are visitors to your area. Your bunny could be quickly snatched and taken away in the blink of an eye.
Weather
Will your bunny be subjected to extreme heat or extreme cold? Choose a rabbit run that best suits your environment. You can get runs with hard roofs, runs with sheltered areas, and runs that have no protection overhead, like a playpen style.
It is also important to note that most wooden hutch designs aren't made to be out in the weather for long periods. They are generally a lightweight timber construction that will not withstand harsh sun or cold rain and snow for very long.
Digging
Most rabbits like to dig holes, and they can easily escape their enclosure if they dig a tunnel.
We don't generally encourage rabbit runs with flooring for two reasons:
We want your bunny to be on the fresh grass nibbling and moving freely
The wire of hutch and cage flooring can damage rabbits sensitive paws
That being said, if your rabbit is a digger, flooring for your outdoor run will keep your bunny safe from digging out.
I suggest monitoring how much your bunny likes to dig and the dimensions of their burrowing. One way to solve this issue is to bury wiring beneath the run area. This addition takes a bit more time, and it is more work, but it will ensure that your bunny can dig to its heart's content.
Once they reach the wiring, you can fill up the hole, and they can start digging again. You might feel like a spoilsport when you repair your rabbit's hard work, but they will start over and not think ill of you! Rabbits are rather industrious by nature, and they are happy to dig again or create a new tunnel.
Other Alternatives to Specific Rabbit Runs
Sometimes, a chicken coop is a good alternative to a rabbit run, particularly if you like to walk into the run and spend time with your bunny.
Outdoor Rabbit Hutch and Run Combos
Outdoor rabbit hutches with built-in runs are an excellent choice for smaller spaces. Often the hutch is up above the run. Generally, there is a wooden ramp that your bunny can hop up and down to rest in their enclosure. This is quite similar to an indoor enclosure, although make sure you look for one that can withstand the heat from the sun or the moisture from rain.
DIY Outdoor Rabbit Run
When you only buy the Outdoor Rabbit Run, you can easily combine the hutch you might already have. You can create a ramp from your run to your hutch, with wiring in between, which prevents the rabbit from getting out.
This design can be an easy solution if you already have a hutch and only want to buy a separate run. Furthermore, if you have a large run, you could consider sitting the hutch in the run, thereby combining the two structures.
Building your own rabbit run outdoors means you can custom design the shape and size to suit your needs. It can also be enriching to DIY something and personalize it for your bunny. Our post on DIY outdoor rabbit runs covers this further.
What Are The Best Outdoor Rabbit Runs?
Here are our top choices for outdoor rabbit runs:
Eglu Go Rabbit Hutch and Run
This is the best alternative to a wooden outdoor hutch that will keep your bunny safe and happy for years to come. It's a far better choice for being outside in the weather, offers insulation for your bunny, houses multiple rabbits, and the run is built from steel. You can also add extension pieces so you can build out your hutch and run in stages. The design keeps your rabbits safe from predators such as foxes, badgers, coyotes, raccoons, hawks, and owls. You can also add a heavy-duty waterproof cover over the top of the run and a snow protection cover over the hutch, making it suitable for use outdoors in all seasons and weather conditions.
Suitable for all types of weather
Steel construction
Various shapes and sizes to suit your needs
Additional shade covers and snow covers available
Integrates with Zippi tunnel system
Zippi Rabbit Run
This is another excellent design with heavy-duty steel mesh to keep your rabbit safe. Like the Eglu Go products mentioned above, you can also add extension pieces, roofing, and a purpose-built rabbit tunnel – your bunnies will love you for this!
Plus, the Zippi tunnel integrates with the Eglu run – so you can mix and match these products.
Here is a quick video showcasing the Zippi run:
Crafted from rabbit friendly fir wood
Measures 48 inches long x 24.75 inches wide x 36.25 inches high
An asphalt composite on the roof offers water and UV resistance
0.4-inch wire offers protection from vermin and predators
Best for small bunnies and compact courtyards
Cons: Water resistant but not waterproof. If you leave this cage out in the sun or rain, it will deteriorate.
Approximately 40 inch x 40 inch cage with a built-in sleeping area
Suitable for multiple rabbits, up to 18 pounds in total
Vermin and predator-proof wire
Crafted from fir wood
Cons: As with the Pawhut cage above, it isn't designed to remain out in the elements long term. To maximize longevity of this product, try to position your outdoor rabbit run under a shelter, shade sail or something that may offer a little protection from weather.
Extra-large square rabbit run measuring 63.75 inches x 63.75 inches
Weather-resistant asphalt composite roof and bunny safe fir wood construction
Holds multiple rabbits
Small hideout in the corner to protect your bunny from the elements, but the primary focus is the rabbit run.
Cons: Weatherproof, not waterproof. If left in the elements, the quality can be compromised.
Suppose you are frustrated by the soft timber of traditional rabbit hutches and runs and their lack of longevity when exposed to the elements. In that case, this freestanding chicken coop is something to consider.
Various widths are available, ranging from 6 feet wide up to 25 feet wide
Walk-in design – standing at approximately 6 feet 4 inches, most people could easily walk in without bending or crouching.
The roof cover offers excellent protection from sun, rain, and snow.
Comparable in price to other rabbit hutches and runs on this list
There are a couple of potential problems with this design. The galvanized frame sits on the grass, so if your yard isn't completely level and your bunny likes to dig, they may easily dig out underneath. The wire is chicken wire, potentially allowing snakes to enter. For the best protection for your bunny, an additional layer of predator-proof wire would be recommended.
Frequently Asked Questions
What happens if you do not have a rabbit run?
Like people and other animals, rabbits need exercise to stay healthy and happy. When they have limited space and feel very cramped, it can make the rabbits depressed, and the rabbit will not get enough exercise. That's why it's vital to have both a hutch and a run.
How much space do bunnies need to run around?
The minimum recommended space is 32 square feet, but more space is always better. Your rabbit needs to be able to run around comfortably. If you have more than one rabbit, they should both be able to use the space together without feeling cramped.
Is it wrong to keep my bunny indoors?
If the bunny has a spacious and well-equipped area indoors where they can play freely and safely, it is not wrong. If your bunny lives inside, protection against weather conditions and predators is not as tricky as living outdoors.
Final Thoughts
Rabbit runs are essential for any pet bunny, and a well-designed hutch is their safe space to sleep, eat, drink, and hide. But they need more than a hutch. They need room to exercise and play freely. That's why rabbit runs are essential to your bunnies' health and happiness.
An outdoor rabbit run is beneficial for the rabbits themselves, but it's good for your peace of mind. It is essential to keep them safe without confining them indoors. Having an outdoor rabbit enclosure keeps your bunny safe from slithering and swooping predators, with the added peace of mind for you that your bunny is safe inside.
There are many different types of Outdoor Rabbit Runs you can buy, and these are only a few that I believe are the most useful and practical.