So, you bought a new bunny and are looking for a perfect name. Congrats! You are in the right place.
Naming your bunny is one of the best and easy ways to bond with them. Whether it may be a cute, funny, popular, pop-culture reference name, or just something that vibes with your bunny's appearance and breed, we've got you covered.
Here is our personally compiled list of best rabbit names for 2022:
Best Female Rabbit Names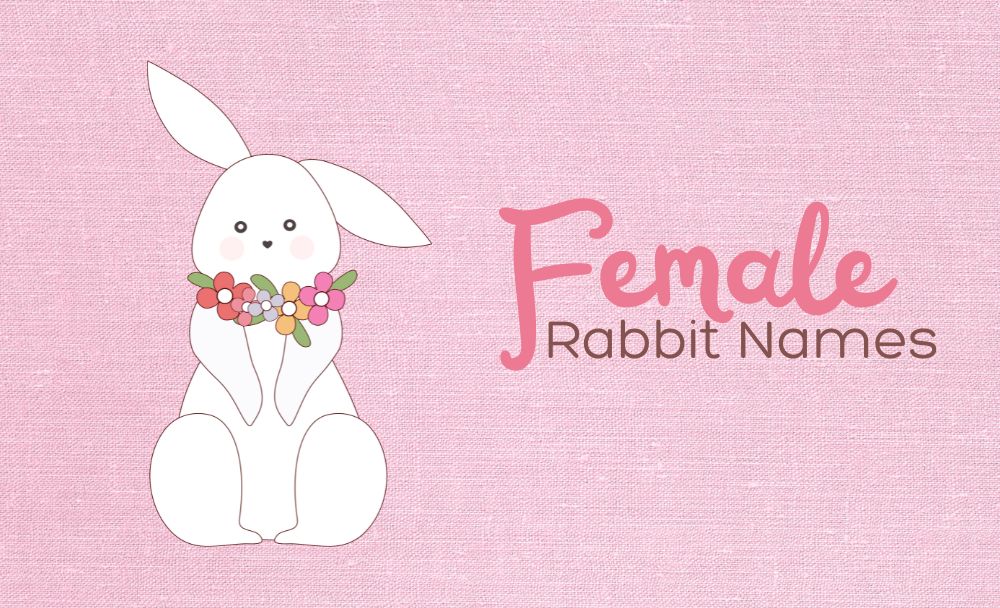 Most Popular Rabbit Names
You can never go wrong with a popular name as it certainly suits a bunny. Below is a list of the most popular female bunny names.
Alice: a noble name that would be perfect for your female bunny.
Angel: This would be a great name for a calm and soft white bunny.
Bonbon: "delightfully sweet", isn't she just that?
Coco/Cocoa: A cocoa bean is extremely precious as it is the primary ingredient to make chocolate. So is your bunny to you?
Candy: A popular cute name that would be perfect for an appealing girl bunny.
Daisy: Daisy is derived from the old English word "dægeseage" which means day's eye.
Lilly: Lily is a pretty flower that signifies purity and innocence.
Oreo: This name would be perfect for a black and white bunny.
Iris: Iris means colorful and it would be great for a colorful/multi-colored bunny.
Willow: Your bunny is strong and beautiful as a Willow tree. Then why not name her willow?

Funny Names for Female Rabbits
Funny always makes sure to put a smile on your face, whenever you call your bunny. Here are some of them for you to check.
Atilla the Bun: Not only do you get a little playful with words here, but it is indeed such a cute and funny name.
Bunita: Bunita means charming, which is a suitable name for a female bunny.
Ballerina: Just assume a bunny wearing a tutu and dancing ballet, isn't it funny?
Big Ears: It is self-explanatory. A name for a rabbit with big ears.
Diva: You got a sassy and stubborn little bunny, Then diva would be a perfect name for her.
Hip-Hop: A funny name for a funky and slick female rabbit.
Hopps: A name for a rabbit that hops a lot and doesn't stay in a place.
Nudger: You rabbit is an attention-seeker and nudges you for it, then naming her after her habit is a good idea.
Pop Tart: Yes, it is a snack. But I think it would be a freakishly funny name if you are looking for something out of the ordinary.
Rabunzel: This name is for a thick and fluffy fur female bunny.

Female Rabbit Names Based on TV and Book Characters
Tv and books play a big part in our life. Whether you grew up watching bugs bunny on TV, or reading Beatrix Potter, many people name their pets after their favorite TV or book characters. Below are some examples:
Anais Watterson: Anais is a pink rabbit from the "The amazing world of Gumball" TV show. In this show, she changes from being innocent to a cunning and intelligent bunny.
Babs: Babs is a pink and white rabbit with blue eyes color. She is from the Tiny Toon Adventures TV show from Warner Brothers.
Cecily Parsley: Cecily is a female rabbit character from Nursery Rhymes written by Beatrix Potter.
Dewdrop: Dew Drop is a brown female rabbit from the TV show Warship Down.
Haru: Haru is a white and fragile rabbit with dark black eyes and is from the TV show named Beasters.
Judy: Judy is a young, optimistic bunny covered in grey color fur. She is the character from the film Zootopia.
Mopsy: Mopsy is a kind, sweet rabbit with fawn fur and golden eyes from the Tale of Peter Rabbit book, written by Beatrix Potter.
Miffy: Miffy is a little friendly bunny covered in white fur and is from the Miffy children's book.
Ruby: Ruby is an intelligent and curious white bunny with black eyes. She is from the Max and Ruby franchise.
Thrayonlosa: Thrayonlosa is again another female character from the TV show Warship down.
Cute Female Names
Who doesn't love to name a bunny with a cute name? Sometimes, they may not have deep meaning, but still, they don't fail to suit a typical bunny name.
Baby: A common cute name that can be suitable for all types of bunnies.
Clover: A plant that signifies faith, hope, love, and luck. So, clover is a cute name with deep meaning.
Dame Diana Dimples: There is no deep meaning for this name, just a cute and funny one.
Leo: A suitable name for a lion-head bunny.
Mary McSnuffles: It is one of the ally and cute names if you want to go for something unusual.
Noodle: A cute name for a rabbit with curly or wavy textured fur such as Asterix.
Scamp: As the name suggests, it is the name of your bunny is mischievous and naughty.
Sherah: It is named from Aramaic origin and it means brightness or light.
Tickle: If your rabbit feels ticklish so easily, then tickle would be a great name.
Wiggles: You female bunny is obsessed with wiggling her nose, wiggles would be a perfect name for her.
Unique Female Rabbit Names
Mythology and foreign language names are the best way to go when you want a unique name. They are not only quirky but also have deep meaning in them.
Acacia: It is the name of Greek origin that means honorable.
Aiko: Aiko means beloved in Japanese.
Chang'e: The chang'e is a goddess of the moon in Chinese mythology. She has a pet rabbit named Jade.
Hina: Hina is the Hawaain name for Goddess of the moon.
Jyoshna: Jyoshna is a word from the Sanskrit language and it means moonlight.
Maelona: Maelona means divine princess and it is of Welsh origin. It would be perfect if you are looking for some noble name.
Venus: It is a well-known name of the Roman Goddess of love.
Pop Culture Rabbit Names
If you are a great fan of Pop culture, then below are some of my favorite Pop culture Female rabbit names for your bunny:
Bella: Belly is a name of the primary female character in Twilight, which means beautiful.
Babbitty Rabbitty: All of us are familiar with Harry Potter. Babbitty is the main protagonist in the book The Tales of Beedle the Bard" written by J.K. Rowling.
Khaleesi: It is the name given to Daenerys which means Queen and it is from the well-known TV series Game of Thrones.
Lola: Lola is a sassy and straightforward bunny character from the film Space Jam.
Ursula: It is the name of the sea witch from the Disney movie named the Little mermaid. But means little female bear in Latin which is a cute way to address a bunny.
Best Male Rabbit Names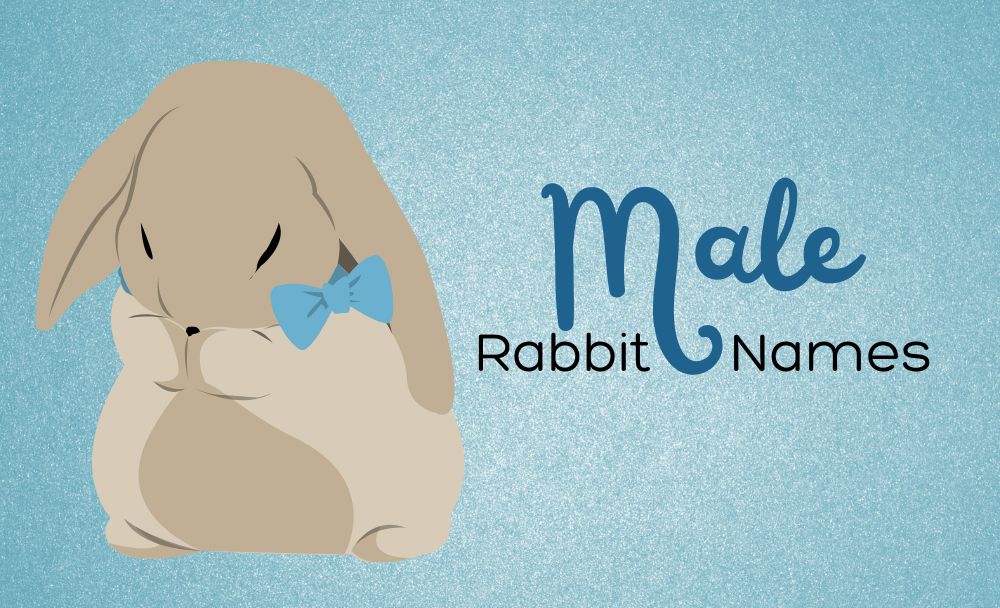 Most Popular
Popular names are easy to pronounce and remember. Here are some of the most popular male bunny names for you.
Bob: A short and sweet name that can be perfectly suitable to a quick-witted and intelligent rabbit.
Beau: Beau means handsome. It suits any male bunny because I think all of them are good-looking.
Caleb: A name meaning who-hearted. Who wouldn't like a generous bunny?
Freddie: Freddie means a peaceful ruler, so it can be a great name for a calm and friendly bunny.
Felix: Felix means lucky and it would be a great name for a rescued male bunny.
Harry: Harry is a simple and easy-to-remember name and it means powerful.
Jingles: A name for a bunny who loves music.
Snoopy: A perfect name for a curious and enthusiastic male bunny.
Thumper: One of the most popular bunny names inspired by the classical Disney film Bambi.
Teddy: Teddy is a perfect name for a soft and cute bunny who resembles a teddy.
Funny Names for Male Rabbits
You can create a funny bunny name based on their appearance or other characteristics. Here are some examples.
Buck Teeth: If your rabbit has cute and prominent buck teeth, then this is the perfect name for him.
Bunita: Bunita means beautiful and it suits any kind of bunny.
Bunsen Bunner: Replacing Burner with Bunner is a freakishly funny name for a bunny.
Cinnabun: A perfect name for a small and fluffy brown-coloured bunny.
Chubs: This name is for a chubby bunny.
Groucho: Is your rabbit a bit of a naughty boy? Then why not name him Groucho?
Lop Lop: As the name suggests, Lop lop is a great name for a Lop rabbit.
Papa Paws: This name is for the bunny with thick and furry paws.
Pookie: If your bunny is messy all the time, then Pookie would be a great name.
Speedo: Bunnies do run fast, so speedo would be the right name.

Male Rabbit Names Based on TV and Book Characters
Below are some of my favorite bunny characters from various TV shows and Books.
Aslan: Aslan could be a perfect name for a lion head bunny. He is from the TV series Narnia.
Bigwig: Bigwig is a big, stubborn rabbit from the film Watership down.
Buster Bunny: Buster Bunny is an energetic and fun-loving teenage rabbit with blue and white fur color. He is from the TV series Tiny Toon Adventures.
Buster Baxter: Buster Baxter is a happy, funny, and friendly white rabbit from the TV show Arthur.
Clover: Clover is a sassy and friendly grey-colored rabbit from the TV series Sofia the First.
Frank: Frank is a giant imaginary rabbit from the film Donnie Darko.
Mr. Bouncer Bunny: Mr.bouncer is a brave bunny character from "the tale of Peter Rabbit".
Peter Rabbit: Peter is a mischievous, adventurous, and intelligent rabbit in the book " The tale of Peter Rabbit", written by Beatrix Potter.
Skippy: Skippy is a zestful teenage rabbit character from the Disney film Robin hood.
Velveteen: Velveteen is a shy bunny character from the book " The Velveteen Rabbit" written by Margery Williams.

Cute Male Names
Rabbits are one of the cutest pets in the world. Naming rabbits with a cute name can be seen as a way to represent the sweetness of a rabbit in a word.
Arya: Arya is a Sanskrit word it means noble.
Boon: You believe that your bunny is a boon in your life.
Binky: This name is for the rabbits that love binkying.
Bobo: This name would be perfect for a deep or dark-colored rabbit.
Harley: Harley means meadows and it is a great name for the bunny who loves large or open spaces.
Honey: Honey is sweet just like your bunny.
Pippin: Compliment your rabbit by naming him Pippin which means excellent.
Sparky: A name for a bunny with sparkling eyes or fur.
Tippy: A cute name for a clever or a smart bunny.
Theo: Theo is a simple and cute name that means God's gift.

Unique Male Rabbit Names
If you want something that is out of the box, here are some unique male rabbit name examples for you.
Ai: Ai is a Chinese word that means love.
Cupid: Roman God of love famous for melting hearts with bow and arrows.
Horus: Horus is an Egyptian God whose both eyes represent power and healing.
Kamil: Kamil is an Arabic name that means Perfect.
Kamaye: Kamaye means bubbly and energetic in Japanese.
Loki: Loki is a Norse God known for his evil energy and mischief.
Selig: Selig is a German name that means happy, which suits a happy bunny.

Pop Culture Rabbit Names
Jive Bunny: Jive Bunny and the Mastermixers was a pop music act from British which is represented by a cartoon rabbit.
Oswald the Lucky Rabbit: Oswald is a cartoon rabbit character that appeared in various Disney short animated films from 1927 to 1938.
Roger Rabbit: If you are familiar with Toon town, then you should have heard of Roger, an animated rabbit character from the Disney film " Who framed Roger Rabbit".
Snowball: Snowball is a classic rabbit character with white fur and a fluffy tail from the film "The Secret Life of Pets''.
The Rabbit of Caerbannog: The Rabbit of Caerbannog plays the role of antagonist in the film Monty Python and the Holy Grail.
Gender Neutral Rabbit Names
A rabbit never bothers about the gender of its name. So, feel free to name your unisex name if you like. Below are some of the gender Neutral rabbit names you can check.
Cotton-Tail: Got a bunny with a shaggy little tail? Then cotton-tail is the perfect name for your bunny.
Carrot: If you got a bunny with red fur color or just the one that loves eating carrots all the time, then carrot would be a great name.
Izzy: Izzy would be a great name for a soft bunny that has been one of the greatest gifts in your life.
Jazz: A cool and unique name that would be apt for any bunny.
Joy: A name for the rabbit that has been a ray of sunshine and happiness in your life.
Lynx: Lynx is a cute name for a bright and wild rabbit.
Best Rabbit Names Based on Fur Color
Naming a rabbit based on its fur color is one of the easiest ways to name it. If you have no clue on how to name your rabbit based on its fur color, below are some bunny names of all the popular fur colors.
Black
Chaos
Coal
Chia
Ebony
Inky
Licorice
Luna
Midnight
Olive
Pepper
Shades
Shadow
Twilight
White
Blizzard
Bai
Bianca
Cosmo
Cloud
Frosty
Hale
Ivory
Lupine
Moon
Marshmallow
Opal
Solar
Sky
Snowie
Winter
Spotted
Barcode
Dotty
Chess
Dice
Domino
Dalmatian
Pudding
Panda
Penguin
Snoopy
Sushi
Oreo
Zebra
Chocolate
Ashley
Bruno
Brownie
Guinness
Maple
Marron
Pretzel
Peanut
Pepsi
Java
Snickers
Fawn
Acorn
Butterscotch
Coffee Bean
Cinnamon
Grizzly
Muffin
Pecan
Root Beer
Rusty
Toffee
Grey
Ash
Cobbles
Earl Grey
Flint
Floyd
Foggy
Gainsboro
Grayson
Mercury
Mouse
Steel
Best Rabbit Names Based on Breed
Each breed has its unique characteristics based on which you can give a specific name to each of them respectively. The below list covers most of the popular breeds and their respective names.
Netherland Dwarf Rabbit Names
Gem
Jolly
Shorty
Sluggy
Tetchy
Dutch Rabbit Names
Brie
Boco
Betsy
Knight
Lovie
SuperNova
Yuki
Lop Rabbit Names for Bunnies with Floppy Ears
Max (Holland Lop)
Nala (Holland Lop)
Pellet (German Lop)
Slumber queen (German Lop)
Cosmic (English Lop)
Loopy ears (English Lop)
Gallant (Velveteen Lop)
Lionhead Rabbit Names
Ariel
Apollo
Blush
Blaze
Crimson
Dynamite
Erik
Ginger
Neemo
Tomato
Flemish Giant Rabbit Names
Amand
Bas
Cewri
Daan
Fien
Lena
Loor
Phobe
How to Get Your Bunny to Learn its Name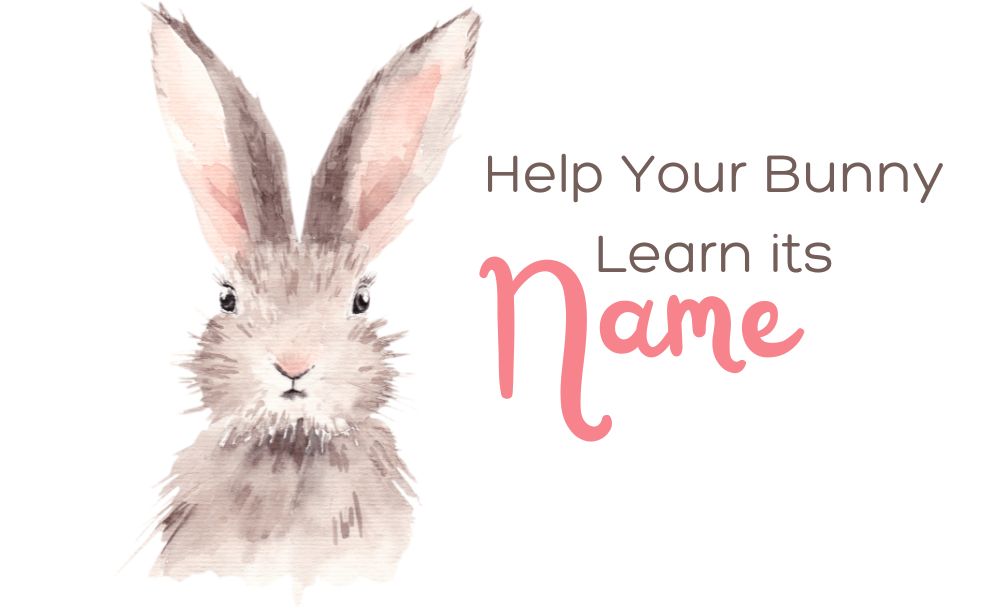 Teaching your Rabbit its name is not a big deal. The way rabbits respond to words is similar to the way it responds to a treat jar. So with repetition and positive reinforcement, you can easily condition your bunny to learn its name. Below is a step-by-step process for you to teach your bunny its name.
The first step is to grab your bunny's attention.
Then say its name while it's watching you.
Then every time your rabbit responds to its name, then it with its favorite snack.
Lastly, let the rabbit free and it's done.
Always try to use a similar and gentle tone whenever you call your bunny. Don't yell at them as it can scare them. Give some time to your bunny, to get used to its name and to respond to it.
Also, take your time when naming your bunny. Instead of naming your bunny instantly, observe it for a while and pick a name that suits him/her. Don't pick a name that sounds more like a command as it can be quite confusing for your little floppy-eared friend. Before high time, a perfect name will surely strike your mind.